The Story Behind the Portrait
Old Portraits of Pierre Viret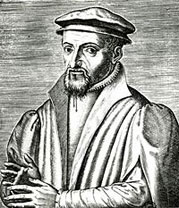 Recreating Pierre Viret
Creating a life-like representation of a man from 16th century portraits and woodcuts can be a difficult and daunting task, as artist James Mathewuse well knows. In his recreation of Pierre Viret, Mathewuse employed every available historic portrait of the Reformer in his development of a true-to-life representation of the man. In his examination of the old paintings and woodcuts, however, Mathewuse found that, though they serve their purpose in capturing the subject's facial makeup, the old pictures reveal mistakes in their essential body proportions. The common side-view of Viret, for example, paints an upper body and shoulders that are far too wide for any actual man; the collar also was found to be too high, the eyes too large, and the eyebrows thinned. To correct these mistakes, Mathewuse used models to determine the proper dimensions for a correct portrait of Viret. He also made use of models in his determination of the correct portrayal of folds in Viret's cloak, and the balance of the Reformer's hat.
The result of Mathewuse's tremendous labors brings us a stunningly life-like view of Pierre Viret to accent our re-discovery of this great Reformer's writings.
About the Artist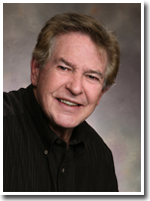 Nationally renowned American artist James L. Mathewuse applied his skill to create an incredibly accurate portrait of the great Reformer, Pierre Viret.
Mathewuse studied under master artists Armando Benitez and Peter Caras. Caras is a protégée of the American legend, Norman Rockwell.
Mr. Mathewuse is well known for his celebrity portraits including President John F. Kennedy (1962), Bobby Kennedy, Nelson Rockefeller, Roy Rogers, Liberace, Ed McMahon, and many others.
Mr. Mathewuse has illustrated extensively and has more than 370 book covers for national publishing houses to his credit.
Back to top of page